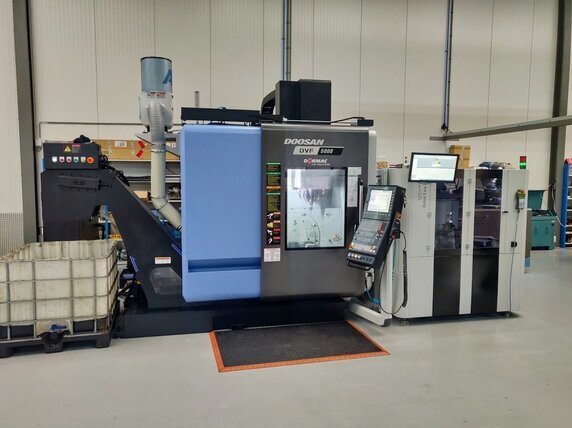 Erowa EASY 250 Pallet changer – To complete 5-axis milling cell.
The installation of the Erowa EASY 250 has been completed. This means our Doosan DVF5000 can run unattended during the nights and weekends. This robot has specifically been chosen as it's is capable of loading part up to 250kg. So big and heavy parts can be automated no problem with this setup. Don't think small parts are a problem, we can easily put more than one part on the 400x200mm pallets.
The pallet changer has been connected to Erowa's Job Management System. (JMS 4.0) This makes it easy to run different parts consecutively in one run. The Job manager controls both machine and robot, making sure the correct program is being run for a specific pallet. This also means specific parts can easily be given priority no matter at what time they have been added to the que of parts keeping the setup flexible for rush jobs.
Pallets have a repeat accuracy of less than 0.003mm making sure that even when a pallet is taken out to do another priority job parts can still be made with precision. As with all other mills the standard work holding solution is with Lang Technik Makro-grip vises meaning it's easy to move jobs previously done on other machines to this automated cell.
This trophy made for Autodesk University 2019 shows what this automated 5-Axis milling cell is capable off.
Back to overview