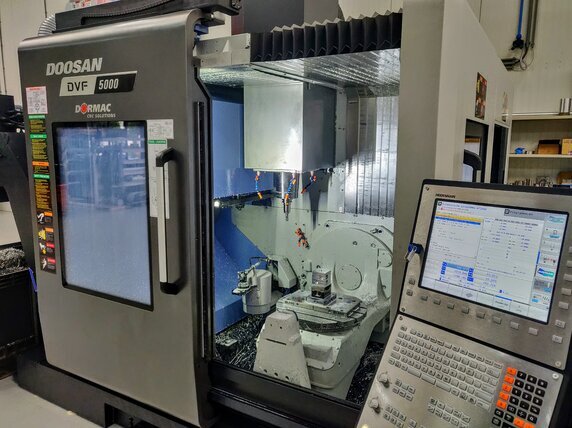 Doosan DVF5000 - New 5-axis machine for 24/7 production.
Recently a brand new Doosan DVF5000 5-axis has been installed. The first of this model in the Netherlands and totally designed with unmanned production in mind. That's why soon an Erowa pallet changing system will be connected to this machine.
The DVF5000 might seem small, yet it has the capability to machine workpieces up to 400kg in 5-axis simultaneous mode. Due to the glass scales, spindle cooling, KinematicOpt and temperature compensation the accuracy is spectacular even during long runtime.
This machine, like our other 5-axis machine the VC630, has been fitted with a Heidenhain control. In this case the TNC640. This makes it easy to machine parts previously made on the VC630, on the DVF and vice versa. This to stay flexible and keep lead times short.
Soon more on the installation of the Erowa EASY250 pallet changer.
Back to overview